Testimonials
GoodLife Fitness Member Proves Fitness Continues Even at 90+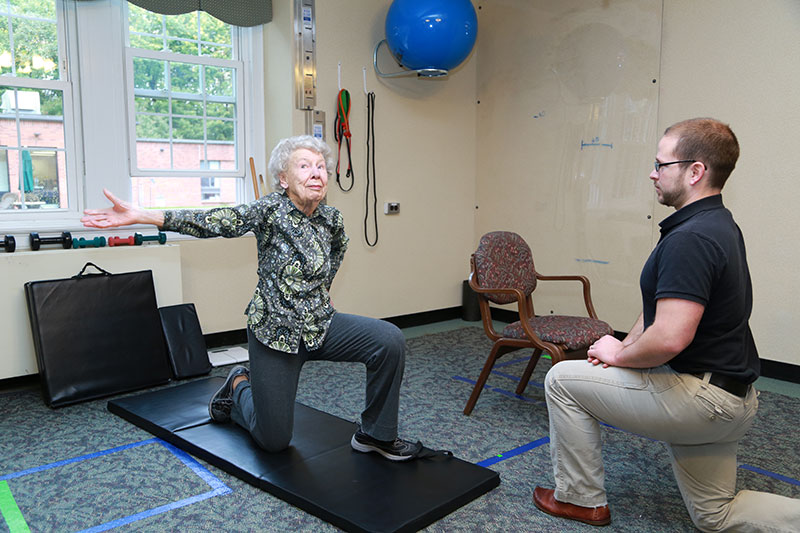 Berlin resident Ruth Day easily lowers herself to the floor of the GoodLife Fitness Center at Jerome Home in New Britain and positions her body to perform a plank, a core strength exercise. With her forearms, elbows and toes bearing her weight, from head to toe she is as rigid as a board, barely showing any exertion as she counts for 30 seconds.
"Great job, Ruth," said Robert Schmelzer, exercise physiologist, as he reviewed her individualized exercise plan that also includes lunges, leg stretches and walking on the treadmill at her twice-weekly sessions. "Ruth is really impressive; she is the epitome of core strength." The plank is hard for many people, noted Robert, so the fact that Ruth can do it is truly remarkable because she is older than 90.
"I don't remember when I started going to the GoodLife Fitness Center or even how I heard about it. It may have been after my third heart surgery," said Ruth, who actually was the Jerome Home activities director years ago. "But I've always loved exercise and have always walked." She also played tennis and took yoga when she was younger.
GoodLife Fitness focuses on improving participants' strength, mobility and balance, often to levels that they thought were in the past. "Regularly working with our exercise physiologists in developing an individualized routine using proper technique and exercise progression has proven to be a key component to what enables our clients to successfully age in place," Schmelzer explained.
Ruth agreed. "It's very helpful to me. If I miss a time, I immediately think about when can I make it up." The program also provides socialization. For a time, Ruth brought one of her friends who uses a wheelchair.
She looks to Robert to keep her progressing through her 12-session cycle of exercises. "I showed my heart doctor my program and he said it was perfect. It has definitely increased my strength and stamina," she said.
Ruth, who has become something of a celebrity, was featured on FOXCT "Healthier Connections." She recommends GoodLife Fitness and encourages others to stick with it on a regular basis. Robert is a very knowledgeable instructor who has a wonderful way with people of all abilities, she said. "He makes each person feel special, and is very patient and encouraging."
Her dedication to a healthy lifestyle has enabled her to remain independent and active in her church and community service. "I try to be ever thankful."
For more information about GoodLife Fitness at Jerome Home, call Robert Schmelzer, exercise physiologist, (860) 229-3707.
— Ruth Day
Remarkable Progress from a Complicated Surgery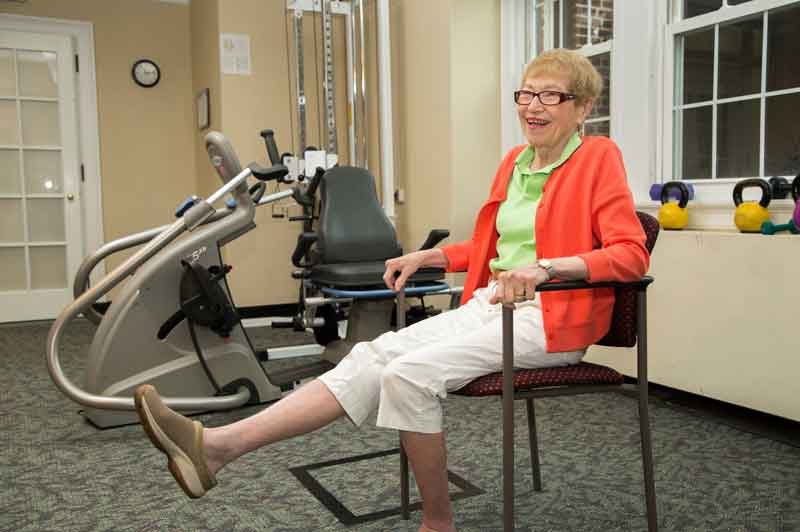 Nancy Judd and her family members have been grateful throughout the years that Jerome Home has been there to meet their many needs. It has an excellent reputation in the community, she said, known for its skilled nursing, short-term rehabilitation, residential care, memory care and assisted living.
Judd's personal experience began when her mother Ethel Fox became a Jerome Home resident in the late 1990s. The close proximity to the Judds' New Britain home made it possible for this mother and daughter to see each other almost every day for seven years. "She was very happy there," Judd said, noting that her mother lived until age 97. "Everyone loved her."
Fast forward nearly 20 years and Judd learned firsthand the excellence of care Jerome Home provides. In February, she had her second hip replacement, this time with a 3-D prosthesis specifically crafted for her.
"It was a very complicated procedure," she recalled. After the hospital, she recuperated for three weeks at Jerome Home's short-term rehabilitation. When she was discharged home, her physical therapy continued with Hartford HealthCare at Home therapists then progressed to outpatient therapy, once again at Jerome Home.
As she was completing her physical therapy program, she requested information on Jerome Home's GoodLife Fitness Center. After meeting with the program manager, she was sold on the program which she said was the natural next step. Working one-on-one with an exercise physiologist, she continues to build the strength and mobility of her leg and hip as well as her upper body through an individualized exercise plan.
Exercising has enabled her to more easily participate in many of her favorite activities including staying connected with Mooreland Hill School where she once worked, serving on boards of directors and committees, and traveling.
"Having run the gamut of superb rehabilitation services (in-patient, at home and outpatient) through Jerome Home and Hartford HealthCare, I am delighted to say that I have made remarkable progress from complicated hip revision surgery," Judd said. "This is directly related to the outstanding professionalism of the dedicated therapists in all the programs. Noteworthy is their compassionate understanding when dealing with many difficult situations," she said.
She was so enthusiastic about the progress she has made through GoodLife Fitness, she encouraged her husband, Richard, to join the program. "We look forward to continuing this program for a long time to support our good health and well-being," she said.
— Nancy Judd
A Beautiful Experience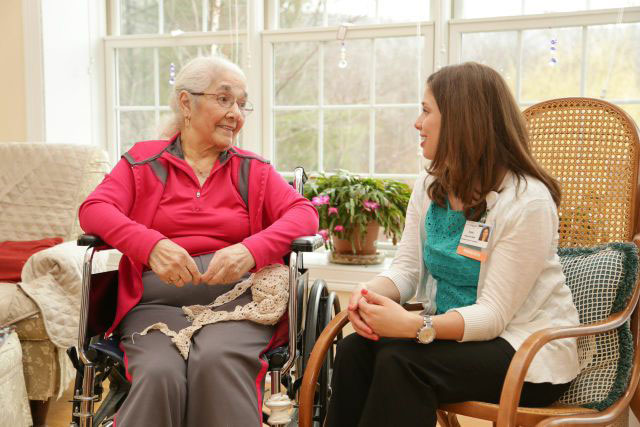 Blanca Soto is one determined lady. Even when she was challenged by an extended recuperation following two back surgeries, she never lost sight of her goal: eventually returning to her home in Berlin.

Soto, 87, had been in pain for years due to spinal stenosis that also affected her right leg. After two surgeries, her surgeon recommended Jerome Home in New Britain for her recovery. She became a resident of the long-term care neighborhood at the community which also provides skilled nursing, short-term rehabilitation, memory care and assisted living.

"I had never been to a place like that but my daughter thought it would be better for me," Soto said. "It was so nice."

At first she required a mechanical lift to transfer from bed to a chair. She received physical therapy while residing in short-term rehabilitation. When she moved to the long-term neighborhood, she was then referred to Jerome Home's Good Life Fitness program. Three times each week, exercise physiologists guided her through her individualized fitness plan, designed to build her strength, stamina and mobility. "The coaches were very good, worked me hard," Soto said.

"You rarely meet clients with a calm determination like Blanca. She consistently came to her sessions ready to work hard, and had the patience to stay within the guidelines of her program. I attribute much of her success to the combination of these two qualities: patience and determination," said Robert Schmelzer, exercise physiologist.

Over the course of her five-month stay, Jerome Home became like home. "I had so many friends there," Soto said, speaking of residents and staff.

"Blanca was either in the fitness center or in her room, reading, relaxing, watching TV or hosting visitors," said Kate Rabinoff, MSW, resident services coordinator. "She has a beautiful personality and always had a smile. She made other people feel good."

As Soto improved in strength and mobility, it became evident that she would reach her goal. "It is rare to discharge residents from the long-term care neighborhood," Rabinoff said. "She is a tremendous success story. I'm so glad she was able to return home."

David Kimball, son-in-law, said the exercise program was key. "It was something she could work at and pursue rigorously. Once she decided she could do more, there was no turning back. I want to credit Jerome Home for having this arrangement," he said. "She couldn't have done it without their support."

Even though Soto is delighted to have her regained independence at home with her son-in-law and daughter, Judy, she misses her friends – and the food – at Jerome Home. "It was a beautiful experience," she said.
— Blanca Soto
Care Around the Clock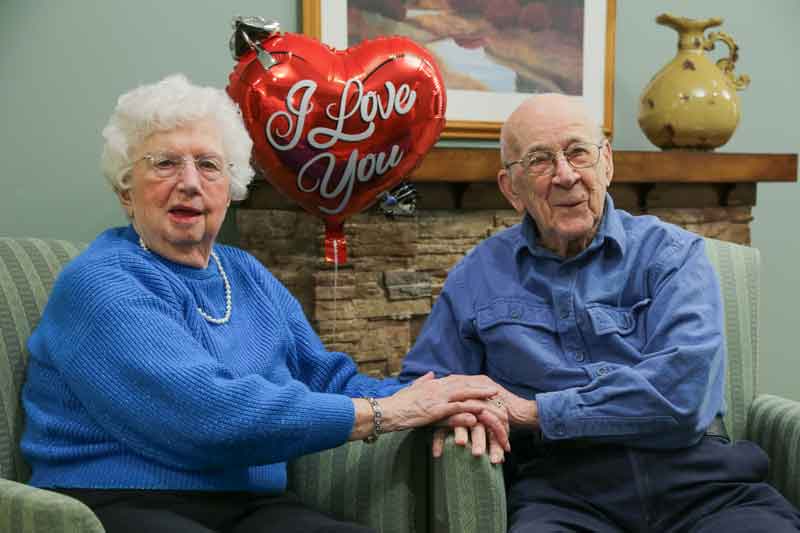 Jennie and Al moved to Arbor Rose on Sept. 1, 2010. They have enjoyed living here for years. They feel safe and get the care they need 24 hours a day.
Everyone treats them like family, but they are especially thankful for Elaina Letendre who takes great care to ensure they have everything they need, and is always a smiling face to turn to.
They eat well; they exercise, play bingo, go to sing-alongs, make ceramics and enjoy many other activities with their new friends.
"God bless our children for bringing us to Arbor Rose."
— Jennie and Al
"Yes, I Can!"
On her strength from the exercise program: "I found my birdbath and stand on the ground. When I first thought of lifting it, I decided I would never be able to, but then I decided, yes I can. So I put both hands on the concrete stand and I lifted it up. Then I returned to get the dish and lifted that up and put it on top of the stand. I did not think I would be able to do that but I did."
— Ann-Margaret Anselmo, Good Life Fitness member
My Back Pain is Gone
My back pain was so bad it affected my balance, now it's gone!
— Betty Bartolucci, Good Life Fitness Member
A Warm, Positive Environment
Kathy Campbell drives down Corbin Avenue every day and witnessed the construction of Arbor Rose over the course of its development. The proximity of Arbor Rose to Campbell and her siblings, and its reputation, were two of the deciding factors when choosing a residence for her mother.

Campbell's mother Loretta, 80, suffered a traumatic brain injury 20 years ago as the result of a car accident. The injury resulted in some memory challenges for Loretta, which persisted as she aged. After living in an Arbor Rose assisted living apartment for nearly a year, an illness required her to be hospitalized for a short time.

"Through that whole experience the staff at Arbor Rose was phenomenal," Campbell said. "I felt that they really cared about my mother." In addition to staff members visiting Loretta while she was in the hospital, they offered Campbell guidance and recommended an aide for Loretta's return to Arbor Rose.

"I felt like I wasn't just out there on my own making these decisions," Campbell said. After Loretta's hospital stay, Campbell made the decision to move her mom to The Gardens, Arbor Rose's memory care section. The move has helped Loretta maintain an active, social lifestyle.

"She likes being around people and being social is important," Campbell said. Campbell was impressed that Donna Valente, Arbor Rose's Activity Director and Volunteer Coordinator, contacted her specifically to ask what Loretta's hobbies are and what activities she might be interested in.

Loretta loves to take exercise classes through the Good Life Fitness program, she regularly plays bingo, and has recently enjoyed the horticulture therapy program offered through the People Plant Connection.

"Arbor Rose is a warm, positive environment," Campbell said. "It's peace of mind for us. I feel fortunate that she's there, and I know she's safe."
— Kathy Campbell
Attentive and Professional Staff
To have a phone conversation with my mom and hear her voice sound so happy is beyond words. To speak with my father on the phone and have no stress in his voice is such a great comfort and relief. One day he told us that his relationship with his wife Lena was so much better. (I almost fell off my chair!)

My mom is delighted to have her picture on the photo board, and points to herself going up the stairs. The activities and trips are so enjoyed.

As far as employees, Katie Mauriello was very helpful in the early days of tours, interviews and paperwork. There was a nurse that helped my Dad through a rough time with a few women that were rude to him in the dining area. I think her name was nurse Laura. She spoke with my Dad, and this had a huge, positive impact. (He's not very good at letting his feelings known.) Nurse Sue is always helpful and a pleasure to speak with. Also I just happened to be at Arbor Rose when my mom got her toe nails trimmed probably back in February. The nurse from the VNA was truly wonderful. She spoke to my mom with such kindness and respect I won't forget.

My sister Donna adds - "Everyone is always attentive and professional to questions and concerns." My brother Gene says, "The energy that Donna Valente puts into activities has a direct impact on the community at Arbor Rose."

Lastly, I would like to say how important, and what a difference it makes when the elderly are eating properly. Thank you to the staff who put out nutritious food and presented so well each day.
— Elaine Karabin, Donna Logan-Gabel and Gene Logan, Jr.
A Positive Experience
Over the years I have been fortunate to share Therapeutic Qigong and Tai Chi for Health to a diverse group of audiences. This has made my teaching experience a rich and fulfilling one. Needless to say some groups stand out more than others. Such is the case with 'The Gardens' classes at Arbor Rose. This is one of my favorite classes because it is always a positive experience for me, the staff, and residents.

There is always a pleasant "good morning" from staff members on Thursday mornings and classes often begin with something to lighten the mood-sometimes it is a simple smile - other times a short story. The group dynamics of the class is upbeat and lively and there is a thirst for learning something new or re-learning something OLD in a new way. The gentle movements open and relax joints while stretching, toning, and strengthening muscles. We make practicing these mind-body disciplines fun. A few of our favorite qigong are the "Floating Clouds Qigong", "Holding a Ball and Turning to Look at the Moon", "The Swimming Octopus" and a modified Tai Chi sequence.

To all involved, I would like to thank you for the opportunity to teach an art that is 'easy to learn and even easier to do'.
— Rog
Warm & Welcoming
When I brought my mother to Arbor Rose, I was overwhelmed with mixed emotions, especially since she was the only person in the Gardens. I soon found these feelings were unwarranted. Your kind & caring staff have convinced me that I made the right decision. Everyone is warm & welcoming each time that I visit. The kind words that have been expressed to me about my mom have given me great comfort. It is also comforting to me to have a staff who seems to care so much about her.

The time that everyone spends with her, playing Sorry (her favorite game), listening to her cooking stories, the warm hugs she receives. I cannot express how much these things mean to me. You all are special, wonderful & kind people. Words are not enough to let you know how grateful I am to each & every one of you.

Thanks for being you.
— Beth Fraychak
Personalized and Compassionate Care
Dear Lori,

I heard it was Employee Appreciation Week and was thinking it would be nice to write about someone. Well the more I thought about who I should write about I realized I couldn't write about just one person.

There are so many people at Arbor Rose that makes it such an enjoyable and caring place to live.

I had gone through an exhaustive search trying to find the right place for mom to move to. As you know this was a very difficult decision for mom to move and it has not only been an adjustment for her but all of us. After meeting Katie and touring with her I knew I had found the perfect place. Even after mom moved in, Katie had the time to answer questions and comfort me when I had doubts and questions.

Kate.. the poor girl - how often did she have to sit on the phone and listen to me cry my eyes out. She always was calming and was able to help me through my "crisis of the moment." She never rushed me through and is always there for me and mom. Kate has also had the opportunity to share a laugh or two at mom's expense.

Elaina and Donna work so hard finding the fun and engaging activities. I especially appreciate how you have made an effort in keeping mom involved and making her "moments in time" enjoyable.

What can I say about all the girls who work in The Gardens. I wish I could list you all but I am so afraid I will miss someone. It doesn't matter what time of day it is - everyone is always so kind, caring, smiling and welcoming.

When mom was having that difficult time adjusting to The Gardens and was calling me all the time begging for me to take her home, I finally took Kate's advice and would call the wellness office and without hesitation they would agree to go get an aide and get her engaged in something.

Every time I come to visit I am welcomed at the front desk with a warm and inviting smile.

It goes without saying how hard the maintenance and housecleaning people work. The facility always looks clean and inviting.

Oh tell Dave, he better watch out - his job might be on the line. Mom told us she drove the van the other day... yikes that's a scary thought. I don't know what is worse - having teenage drivers or thinking that she could possibly be on the road.

The true testament of how wonderful everyone is at Arbor Rose is that mom always says "How nice everyone is to her."

As the saying goes, "It takes a village!" There is an amazing village of people that work at Arbor Rose who come to work everyday with the attitude of providing mom and all the residents personalized and compassionate care.

I appreciate all that you do. If mom can't be home I am glad she is at Arbor Rose.

PS: I miss not being able to see mom everyday but I know that she is well cared for and treated with respect.
— Barbara Roberts
Staff Goes Over and Beyond
Our family would be more than happy to recognize and comment on Arbor Rose and the caring and supportive staff. As a long-distance care giver, I have come to have the utmost trust that my mother is receiving incredible care in my absence. All of the staff has always been responsive to both my mother and our family. It would be difficult to pick out anyone in particular since everyone goes over and beyond their job responsibilities. Virginia has been with us since day one when my mother fell in the bathroom before she officially moved into her apartment during my mother's respite period. I had a flight back to Atlanta that afternoon. She handled the situation so professionally and even cared for me in addition to my mother.

Sue, who my mother calls the fancy nurse, has monitored my mother's health episodes in and out of the hospital in addition to even visiting her in the emergency room after she left work. Dave has escorted my mother to many doctor's visits like the true gentleman that he is. I could go on and on with many others who we have come to know and love including you yourself Donna. Your attempts to keep the residents stimulated with your many and varied programs have enhanced my mother's life.

Thank you all for all that you do.
— Jackie Tabellione
Invaluable Peace of Mind
I can say with conviction that I have found every single staff member that I have come in contact with at Arbor Rose to be nothing short of pleasant and loving towards my mother. The constant activities, variety of events, and the delicious daily dining experience only ensure my mother's constant happiness.

Arbor Rose is more than I could have asked for in an assisted living facility. To say that residents are treated well is an understatement. Your facility not only provides joy to my mother, but also provides me and my family with invaluable peace of mind.

Although I have found all of the staff members of Arbor Rose to be wonderful, I have to nominate you, Donna Valente, as the staff member to be recognized. My mother gravitates towards your wonderful energy and inviting demeanor. From the bottom of my heart, I want to thank you for being polite, kind, and patient with our beloved mother. Our gratitude cannot be adequately expressed with words.
— Rosalind Smith & Family
Revitalizing Life
Jerome Home has given me the start I needed to revitalize myself. I had a total hip replacement and received physical therapy which has now given me the confidence to do the things I didn't think I could ever do again!
— Eileen Gorczyca, Rehab client and resident of New Britain
My First Choice for My Own Patients
After my motorcycle accident, I went to Jerome Home for physical therapy. I received superb care from Doug and his staff. As an internist, I've had experience with other places, but now would recommend Jerome Home as the first choice for my patients!
— Larry Broisman, MD, Internal Medicine, Jerome Home Client
Fabulous Results
A year ago, I fractured my femur bone. Through rehabilitation and the Good Life Fitness program, I've gained the perseverance to continue exercising. Everyone at Jerome Home is fabulous!
— Elaine Wyzga, Rehab/Good Life Fitness client and resident
My Backaches are Gone
I haven't had a backache since I started the program – and I was prone to backaches.
— Tina Colangelo, Good Life Fitness Member