Skilled Nursing Care at Jerome Home
Skilled nursing, hospice, and long-term care for adults ages 60 and older who can no longer live independently
Jerome Home is a certified skilled nursing care community providing a full spectrum of long-term and end-of-life care. With state-of-the-art medical facilities on-site, residents benefit from 24/7 restorative nursing services as well as a full spectrum of therapies, including physical, occupational and speech therapy. Family Alzheimer's and dementia support groups are also available.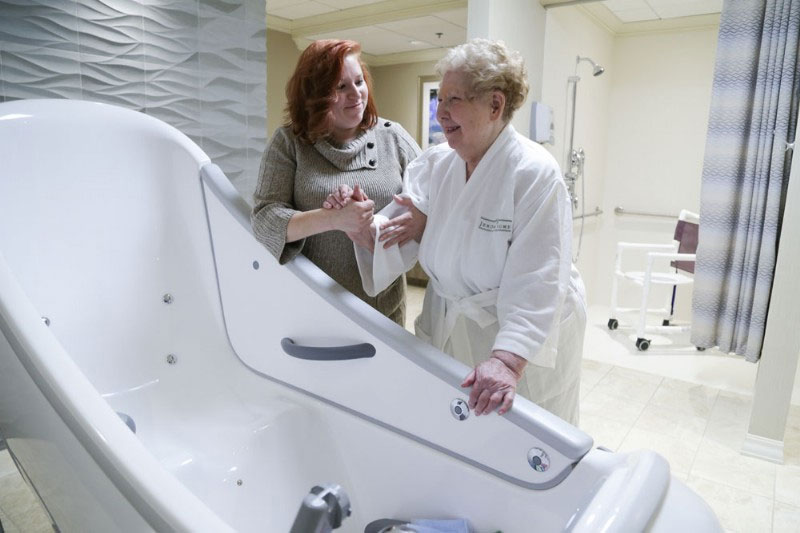 Photo Gallery
Special Services & Amenities
88 private rooms
Outstanding staffing ratio
On-site Advanced Practical Registered Nurse (APRM)
Elegant dining rooms
Hair salon
Brain gym
Gardens and walking paths
Podiatry
Optometry
Dental
Laundry service
Housekeeping service
Private spaces for family visits
Dining Options
Residents are provided three delicious, home-cooked meals each day. Our elegant dining room is open from 7 am until 7 pm, so residents can dine when they choose. We provide an ever-changing menu of nutritious options, with alternatives always available. We also offer social hours and cooking groups.
Security
Residents can be signed in and out by family members, and security cameras can be found in all common areas indoors and out. If needed, our WanderGuard system can also be utilized to ensure the safety of your loved one.
Payment Options
Jerome Home is a not-for-profit organization. Our skilled nursing care residence accepts patients who are covered by a long-term Care policy or Title 19, as well as those who private pay.