Skilled Nursing Care at Jerome Home
Skilled nursing, hospice, and long-term care for adults ages 60 and older who can no longer live independently
Jerome Home is a certified skilled nursing care community providing a full spectrum of long-term and end-of-life care. With state-of-the-art medical facilities on-site, residents benefit from 24/7 restorative nursing services as well as a full spectrum of therapies, including physical, occupational, and speech therapy. Family Alzheimer's and dementia support groups are also available.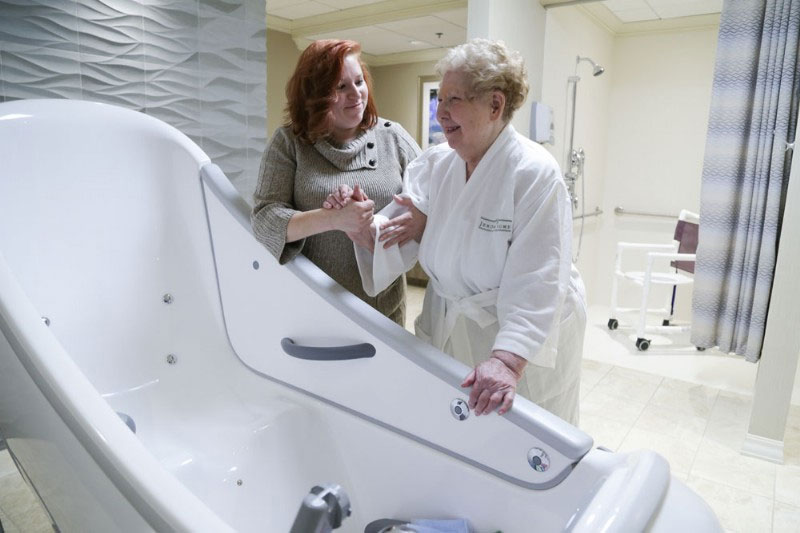 Photo Gallery
Special Services & Amenities
88 private rooms
Outstanding staffing ratio
On-site Advanced Practical Registered Nurse (APRM)
Elegant dining rooms
Hair salon
Brain gym
Gardens and walking paths
Podiatry
Optometry
Dental
Laundry service
Housekeeping service
Private spaces for family visits
Dining Options
Residents are provided three delicious, home-cooked meals each day. Our elegant dining room is open from 7 am until 7 pm, so residents can dine when they choose. We provide an ever-changing menu of nutritious options, with alternatives always available. We also offer social hours and cooking groups.
Activities
Jerome Home provides ample opportunities for social and recreational activities planned with the active senior in mind. These include:
Music Programs

Therapeutic Music Programs
Music & Memory ®
Musical Entertainment

Social Gathering

Bingo
Cooking Classes
Social Hour
Poetry

Outings (museums, shopping, casinos, the aquarium, the beach, restaurants, plays and musicals, scenic tours, and more)
Brain Fitness

Brain Gym - IN2L It's Never Too Late

GoodLife Fitness
Restorative Programs
Spiritual Programs

Church
Yoga
Pet therapy
Massage Therapy
Aromatherapy
Guided
Monthly Activities Calendar
Click here to view and print our current calendars or give us a call or email and we can send a calendar to you.
Security
Residents can be signed in and out by family members, and security cameras can be found in all common areas indoors and out. If needed, our WanderGuard system can also be utilized to ensure the safety of your loved one.
Payment Options
Jerome Home is a not-for-profit organization. Our skilled nursing care residence accepts patients who are covered by a Long-Term Care policy or Title XIX, as well as those who private pay.
Get Started
Contact us to schedule a tour to see if Jerome Home's skilled nursing care is right for your loved one.
Schedule A Tour
When you've made your decision, download Jerome Home's admissions application form to be completed and returned for consideration for admission. Should you have questions regarding this form, please don't hesitate to contact us.