Inpatient Short-Term Rehab at Jerome Home
Ideal for Rehabilitation
The choice of where you're going to recuperate is as important as your choice of physician and hospital. Understanding the need for this, Jerome Home accepts reservations for planned surgeries and procedures. This provides you and your family with peace of mind knowing that you have priority status for admission to our programs when you are discharged from the hospital.
For unforeseen surgeries or procedures, our admissions coordinator will work with ou, your family and the hospital discharge planner to accommodate your rehabilitation needs during recovery.
Our team of in-house professional therapy staff enables you to build a close relationship with your therapists, ensuring the continuity of care. Your physical, occupational and speech therapists will design a program that best meets your needs. Working together as a team, we'll develop a comprehensive program designed for optimal recovery and treatment to get you home again.
In addition to our qualified therapists, your rehabilitation includes:
The services of 24-hour professional nursing care
In-depth case management
Individualized treatment plans
Pain management
Nutritional counseling
Discharge planning
…all working together to provide you with excellent medical and therapeutic support.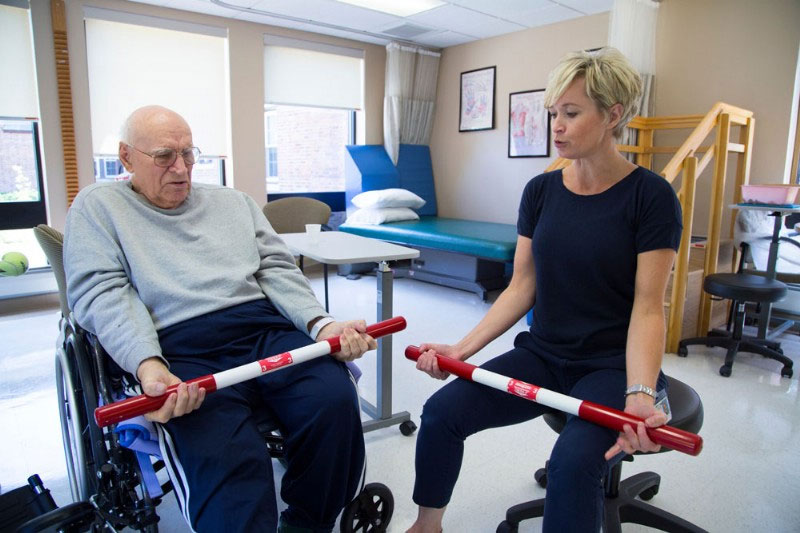 Photo Gallery
Your Rehabilitation Includes:
All necessary therapies
24-hour professional nursing care
In-depth case management
Individualized treatment plans
Pain management
Nutritional counseling
Discharge planning
On-Site Amenities
Hair salon
Brain gym
Gardens and walking paths
Podiatry
Optometry
Dental
Laundry service
Housekeeping service
Dining Options
Residents are provided three delicious, home-cooked meals each day. Our elegant dining room is open from 7 am until 7 pm, so patients can dine when they choose. We provide an ever-changing menu of nutritious options, with alternatives always available. We also offer social hours and cooking groups.
Activities
Jerome Home provides ample room for social and recreational activities planned with the active senior in mind. These include:
Happy hours
Outings (museums, shopping, casinos, the aquarium, the beach, restaurants, plays and musicals, scenic tours, and more)
iN2L technology
Worship services
Security
In-home short-term rehabilitation patients are free to sign themselves in and out as they wish. Security cameras can be found in all common areas indoors and out. If needed, our WanderGuard system can also be utilized to ensure the safety of your loved one.
Payment Options
Jerome Home is a not-for-profit organization. Our inpatient short-term rehab accepts patients who are covered by a Long-Term Care policy, Title XIX, Medicare or a private insurance policy, as well as those who private pay.
Get Started
First, schedule a tour to see if Jerome Home's inpatient short-term rehab is right for your recovery. We'll be happy to show you around and answer any questions you might have.
When you've made your decision, download Jerome Home's admissions application form to be completed and returned for consideration for admission. Should you have questions regarding this form, please don't hesitate to contact us.