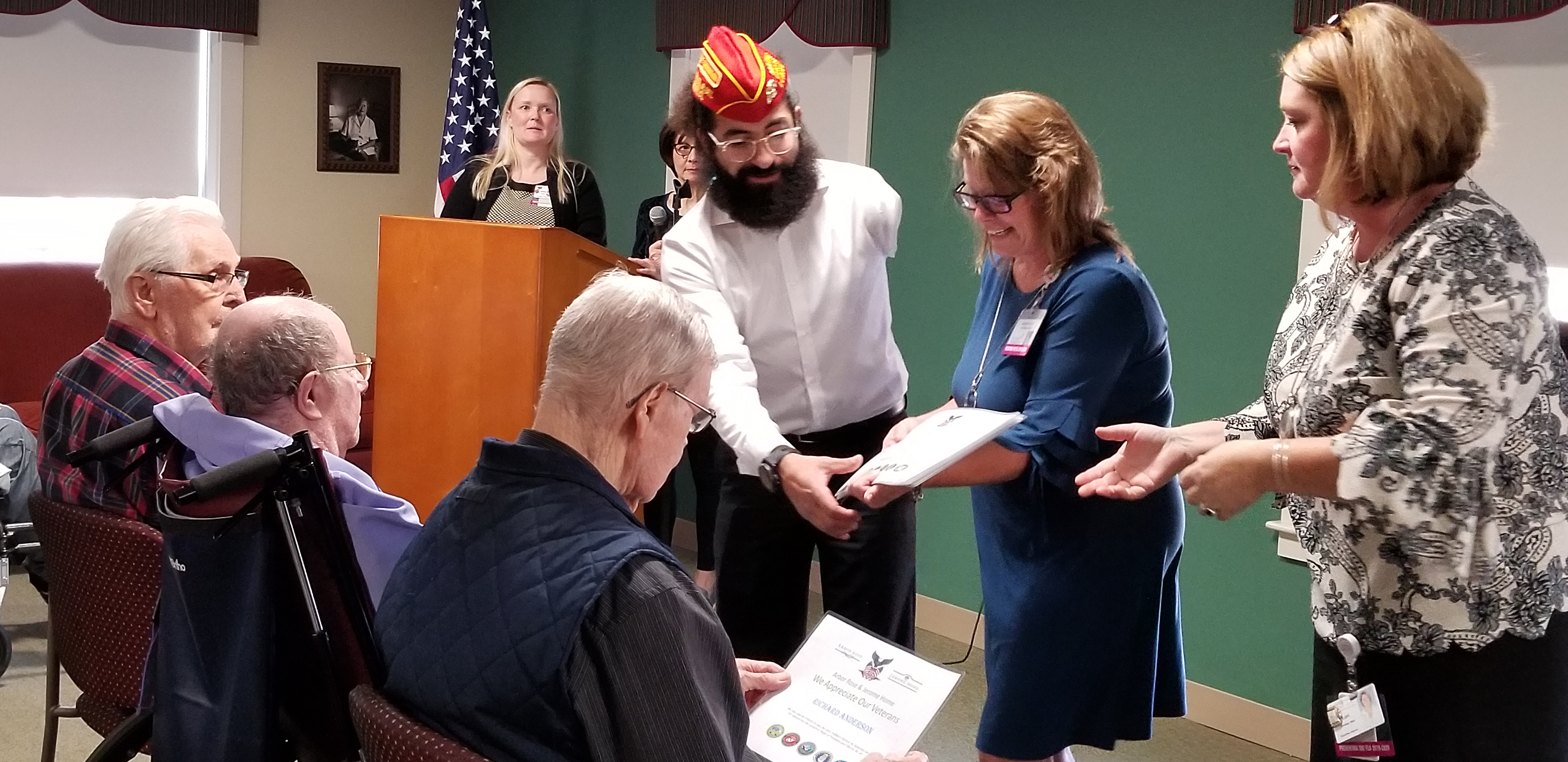 More than 20 veterans who reside at Jerome Home and Arbor Rose senior living communities received commemorative pins and certificates in recognition of their military service. The event, held on Nov. 11 at Arbor Rose at Jerome Home, recognized those who had served in the U.S. Air Force, Army, Army Reserve, Navy, Coast Guard and Marines.
Cpl. Manuel Jimenez, a Marine Corps veteran and a Junior Vice Commandant of the Peter P. Monaco Jr. Detachment 40, Marine Corps League in Glastonbury, made the presentations with Sherry Vogt, Hartford HealthCare veterans' liaison. The New Britain High School ROTC Color Guard also assisted.
In his volunteer role with the Marine Corps League, Jimenez, a marketing analyst for The Travelers insurance company, assists with reintegrating veterans into society when they return from active duty. He knows the challenges of adjusting firsthand: while serving in Afghanistan in 2010 he lost his left arm, hearing in his left ear and partial sight in his left eye from a roadside bomb. Recipient of a Purple Heart and Combat Action Ribbon, he was able to mainstream thanks to, in part, after a handicap-accessible home was built for him and by "paying it forward" as an active community volunteer. "Protecting our brothers never ends," he said.
Vogt, who is also an Army veteran, said that the oath of military enlistment continues to bind all veterans, including those attending the ceremony. "From George Washington until today, we are a long chain of those who said 'yes' to serving our country," she said.
Honorees included Richard Anderson, Robert Angelo, Lucien Archacki, Richard Bailey, Edward Brady, Charles Dempsey, Paul Deshaies, Bruce Ellison, Kenneth Leslie, Donald Erickson, Bernard Gaffney, Graham Hall, Gerald King, Alexander Pierro, Carlton Raymond, Joseph Roman, Thomas Scanlon, Dr. Edward Scheer, Romeo St. Pierre and Lawrence Tilford. At 103 years old, Pierro was the oldest of the group.
Among the family members who attended the Veterans Day event were Lois Eddins and her husband Mark, of Southington. She is proud of her father Lucien Archacki who served with the U.S. Army in France during World War II. At age 95, he still recalls his wartime service. The annual recognition ceremony at Arbor Rose and Jerome Home is a wonderful tribute to all veterans, Eddins said. "It's very moving. I always tear up."
To continually recognize those who served, a Wall of Honor has been established at Arbor Rose which includes photos and the names of the residents.
Jerome Home and Arbor Rose, both managed by Hartford HealthCare Senior Services, are located at 975 Corbin Ave. in New Britain. Jerome Home offers skilled nursing, inpatient/outpatient rehabilitation, residential care, memory care and assisted living. Arbor Rose offers independent and assisted living with memory care. For more information about Arbor Rose and Jerome Home, visit www.jeromehome.org.
---