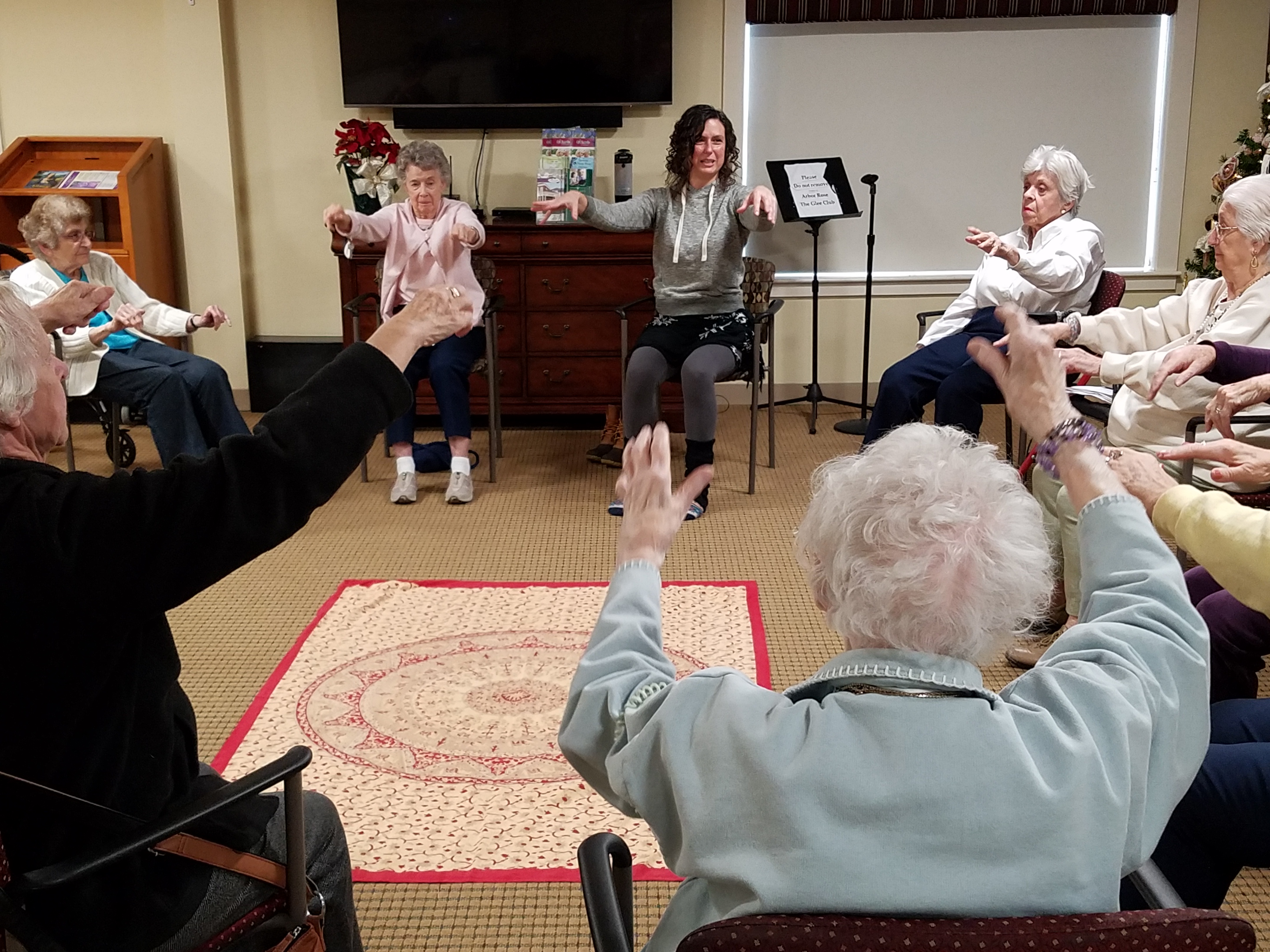 Residents sat peacefully in their chairs soaking in the afternoon light in the second floor dining area. With feet planted on the ground, they quietly inhaled and exhaled, letting their minds relax, their thoughts floating away with each breath.
Throughout the 50-minute session, the residents followed the gentle voice of Rosalie Tanguay, RN, HN-BC, board-certified holistic registered nurse and certified yoga instructor. They were encouraged to stretch, notice sensations within, feel peace and relaxation. "Arrive at a place of gratitude – think of one thing today for which you are grateful," Tanguay said.
"How do you feel?," she asked afterward. "Very relaxed", "mellow" were some of the residents' replies.
Tanguay, who has worked for six years at Jerome Home, now as a weekend charge nurse, has been practicing yoga for 17 years. She was experiencing her own aches and pains but didn't find any relief until she tried the alternative therapy including guided imagery to relive anxiety, stress and pain. "Yoga is a gift we all need to practice. It's a way of being," she said.
She began her medical career as a certified medical assistant in an OB/GYN office before she became a registered nurse and assisted in births during her clinical studies in nursing school. Now her practice is at the opposite end of the health care spectrum, caring for older adults. Several years ago, she introduced yoga and meditation at the Arbor Rose and Jerome Home to help individuals attain a relaxed mind and body while realizing their own healing power.
The feedback she has received is the evidence of the positive effects. "People have actually said their pain lightens or goes away and that they are more relaxed. Sometimes people may be upset about something when they come but they feel better afterward," Tanguay noted.
"It's opened my eyes to different things," said Bill, a resident. "It stretches my body, mellowed me out. It's healing."
---