NEW BRITAIN - An avid volunteer who relishes assisting Connecticut veterans is striving toward getting stronger and steadier at GoodLife Fitness so he can return to active duty at the Veterans Administration healthcare facility in Newington. Before his first debilitating fall while shoveling snow in January 2017, Joseph O'Brien was volunteering four days each week, escorting veterans to and from their appointments and assisting them wherever needed.
"I am not a veteran myself but I really enjoyed interacting with them and helping them out," said O'Brien, a retired postal clerk and motor vehicle inspector.
Even a year after his terrible accident, the incident is vivid in his mind. A series of falls over the course of two days resulted in serious injuries to both his legs. Following surgery at Hartford Hospital, O'Brien recuperated for five months at Jerome Home, which offers skilled nursing, short-term rehabilitation, residential care, memory care and assisted living at 975 Corbin Ave. in New Britain. An integral component of his treatment plan was inpatient therapy. "They took very good care of me," O'Brien recalled.
Upon discharge, the New Britain resident continued his outpatient rehabilitation at Jerome Home's GoodLife Fitness Center, geared to older adults. Under the direction of an exercise physiologist, O'Brien has been working on building his core strength, balance and stamina through twice-weekly exercise sessions. "He is doing a great job and continuing to improve," said Maquita Parker, BS, the exercise professional who works one-on-one with O'Brien.
"I want to get back to normal and return to the veterans' hospital," he said. Parker has no doubt that with his determination and continued improvement, O'Brien will accomplish these goals.
GoodLife Fitness, a program of Hartford HealthCare, is geared toward the older adult to build energy, strength and endurance for an active lifestyle. GoodLife Fitness has eight locations, including Jerome Home. For more information about the Jerome Home location, call 860.229.3707.
GoodLife Fitness, a Hartford HealthCare Program, is available in:
Bloomfield – Hartford HealthCare Family Health Center, 2 Northwestern Drive, 860.286.3235;
New Britain - Jerome Home, 975 Corbin Ave., 860-229-3707;
Newington - Cedar Mountain Commons, 3 John H. Stewart Drive, 860-665-7901;
Southington - Southington Care Center, 45 Meriden Ave., 860-621-9559,
Southington - The Orchards at Southington, 34 Hobart St., 860.628.5656,
Southington - Mulberry Gardens at Southington, 58 Mulberry St., 860.276.1020;
Willimantic – Windham Hospital, 112 Mansfield Ave., 860.456.6785.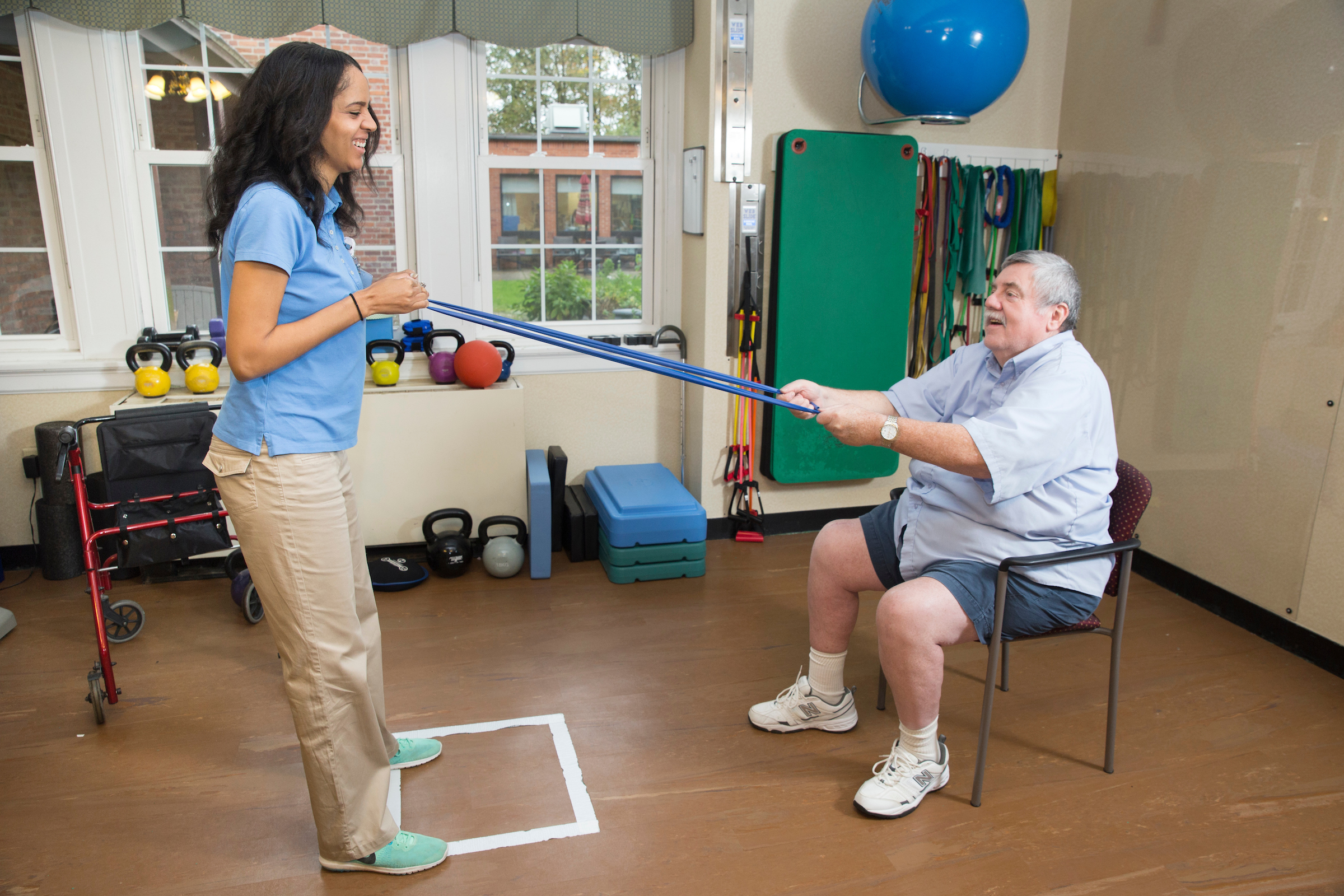 ---