In honor of National Volunteer Week, Jerome Home/Arbor Rose recognized 33 volunteers. Volunteers were recognized on Wednesday, April 20 at 975 Corbin Ave., New Britain for their commitments to the elderly community.
Opening the event with a few words from Executive Director of Arbor Rose, Lori Toombs. "A minute makes a world of a difference. We recognize each one of you for your services because it is so special to our residents. You are priceless to us, we can't thank you enough," Executive Director of Arbor Rose, Lori Toombs.
Each volunteer was recognized by name and service by Life Enrichment Director and Volunteer Coordinator of Jerome Home, Jenna Sweet and Activities Director of Arbor Rose, Donna Valente, with a presentation, handwritten thank you note from all the residents and a gift card.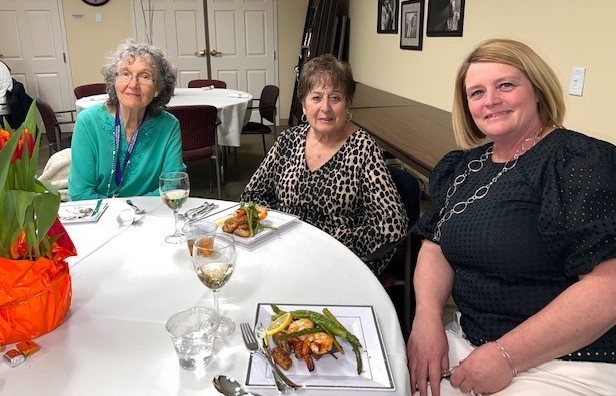 Volunteers are an integral part of the Jerome Home/Arbor Rose team that is important to the enhancement and enrichment of the senior community. Volunteer services include:
Concierge Services: escorts to programs, hair salon, GoodLife Fitness and walking paths. Honored volunteers include:
Diane Poplowski
Lori DelVaglio
Companionship and Resident Visit: spend 1:1 time with residents while enjoying various activities like reading or baking. Honored volunteers include:
David Gorski companion to the Polish community.
Terry Moylan visits blind residents.
Pam Bombrowski
Life Stories: booklets published by Shutterfly for residents of their life stories. Honored volunteers include:
Karen Palmunen
Carol Haddad helps
Nancy Roman helps
Kelly Shea-Gallagar
Pet Therapy: a guided interaction between a resident and a rained animal. Allowing residents to cope with emotional, physical and mental disorders. Volunteer, Linda Nadeau brings her furry friend to the community.
Recreational Assistants: assist in programs such as bingo, social hour, music, and escorts residents to outings. Honored volunteers include:
Eveie Ramos
Hannah Aldridge
Joyce Chan
Nathan Papandrea
Susan Cellino
Lily Freer
Lori DelVaglio
Spiritual Services: can include communion, prayers and massage therapy of all religious affiliations. Honored volunteers include:
Barbara Cass
Mary Fournier
Ann Gurr
Hilda Perez
Bob and Judy Anderson
Jeanne Wischenbart
Gail Steele
Lori ChudziK
Barbara Kirejczyk
Patty Bedard
Joan Vancor
Karyl Beloin
Dennis and Mary Beaupre
Sister Barbara
Louise Cody
Pam Bombrowski
For those interested in learning more about Jerome Home or volunteer opportunities, please visit www.jeromehome.com/join-our-team/volunteer-opportunities/ or call Jenna Sweet at 860.356.8236.
Jerome Home, which offers skilled nursing, short-term rehabilitation, residential care, memory care and assisted living, is affiliated with Hartford HealthCare Senior Services. Jerome Home is located at 975 Corbin Ave., New Britain. For more information about Jerome Home, visit jeromehome.org.
---