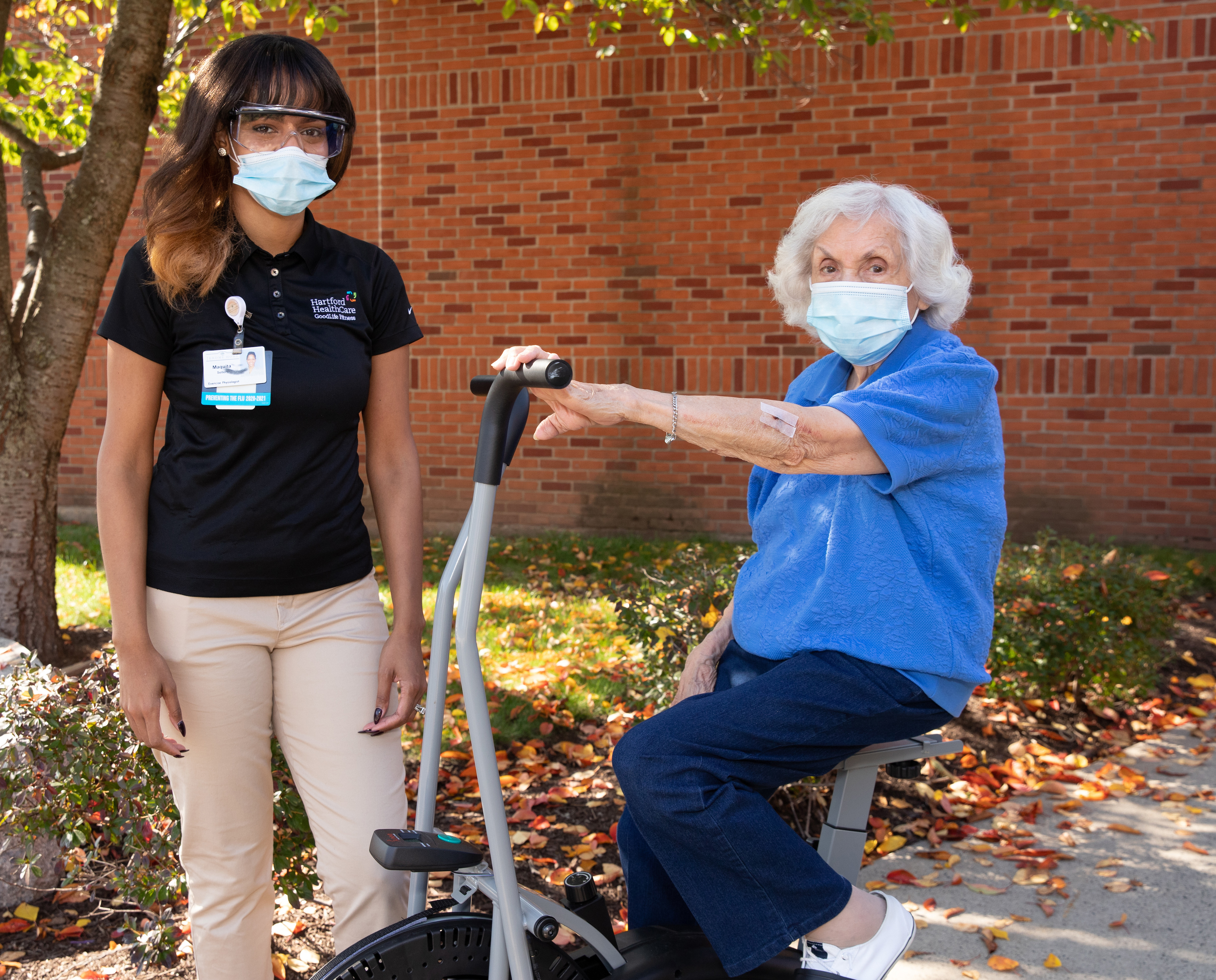 At the golden age of 96, Jerome Home resident Grace Abrahamson has lived through historic events like the Great Depression of 1929, World War II in 1939, and the Apollo 11 landing on the moon in 1969.
One thing that she never thought she would experience in her lifetime, however, was a global pandemic. A lifelong Kensington resident, Abrahamson has had many life experiences, including working for 40 years in the Industrial Supply Office Management field following her days of being a clothing accessory model for "Maddie's Hatties."
After living alone for nine years following the death of her beloved husband of 50 years, she and her son ultimately decided it was best for her to move in 2015 to Jerome Home. Located at 975 Corbin Ave. in New Britain, Jerome Home is an assisted living community, managed by Hartford HealthCare Senior Services, that also offers skilled nursing and inpatient/outpatient rehabilitation.
Eager to continue her normal 5-mile walking routine, Abrahamson was elated to discover the GoodLife Fitness program, especially since her doctor discouraged her from walking the grounds alone due to her declining vision. She began a personalized fitness program working with the on-site exercise physiologists twice a week and was able to maintain her normal routine as well as achieve new goals.
Then in May 2020, she contracted COVID-19. Although she was fortunate to have only mild symptoms, she was also "battling" a personal loss of a dear friend. To occupy her 14 days in quarantine, she listened to books on tape and walked laps around the floor in her room to stay as active as possible. After completing the isolation period and testing negative, she wasn't as anxious as she expected to be to resume her regular life, once she accepted that the world as she knew it would never be the same.
Although Abrahamson had many reservations about starting a new chapter, the one place she felt comfortable was the GoodLife Fitness Center. She began her transition slowly by walking at a moderate pace on the treadmill, but she soon found she was strong enough to resume her normal 30-minute/5-mile vigorous workout on the upright stationary bike or "Thunder" as she has appropriately named it.
She attributes her successful recovery to keeping a positive attitude and the love and care of those around her. "Always look at the lighter side of life," she said.
Jerome Home, managed by Hartford HealthCare Senior Services, is located at 975 Corbin Ave. in New Britain. Jerome Home offers skilled nursing, inpatient/outpatient rehabilitation, residential care, memory care and assisted living. For more information about Jerome Home, visit www.jeromehome.org.
photo by Rusty Kimball, Hartford HealthCare
---