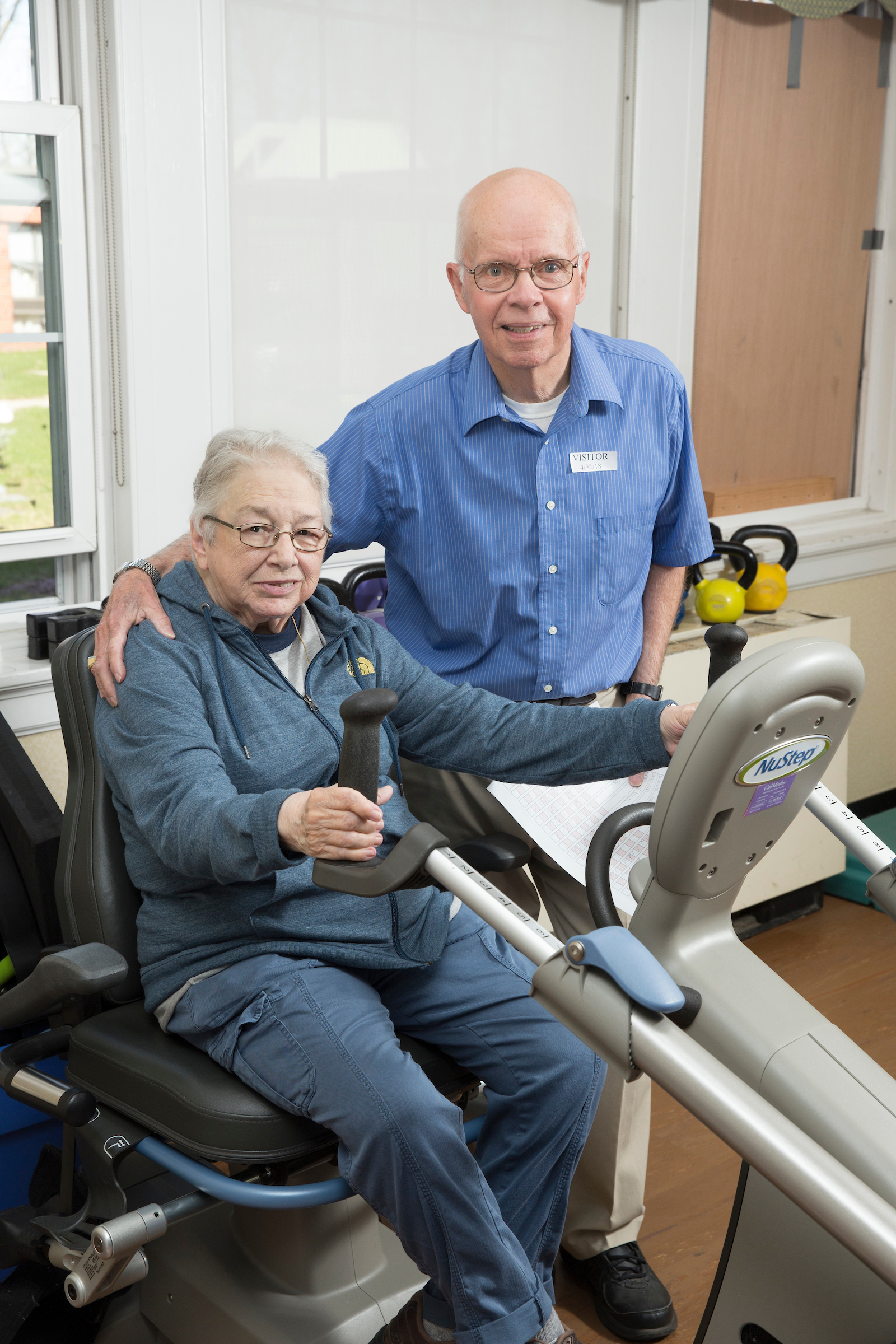 Jean and Wayne Grass still smile at each other when they recall meeting as teenagers on the high school track in the mid-1950s. He remembers the coat she was wearing and she remembers thinking, "He's cute." He was impressed by her athleticism when he saw her playing softball.
Something must have clicked: this New Britain couple has been married for 51 years. However, the last several years have been extremely difficult for the both of them as Jean was incapacitated by a degenerative spine condition. She became totally bed-ridden. "I had to do a lot for her," Wayne recalled.
After having a successful complicated back surgery at Hartford Hospital, Jean, a retired paraprofessional, recuperated for seven months at Jerome Home where she first received extensive in-patient physical rehabilitation. Wayne and their daughters were by her side every day.
She credits her recovery, in part, to Jerome Home's in-patient and out-patient physical and occupational therapists, including Lori Lyons. "The therapists are fantastic. They got me started on my recovery," Jean recalled. Jerome Home, located at 975 Corbin Ave., was able to offer a continuum of care even after she was discharged.
She made slow but steady progress and eventually transitioned to GoodLife Fitness, the individualized exercise program designed to build strength, mobility and flexibility. First in a wheelchair, she progressed to a walker and now a cane. "I am working on getting my balance back and hope to start walking without a cane," she said as she stepped toe-to-toe, testing her balance. GoodLife Fitness exercise physiologists, Angela Duval and Maquita Parker, have been by her side as she improves.
"It's a good program, they don't give you more than what you can do," she said. "But exercise is good; I have to keep going for it."
Wayne, who was having problems with his right knee, also joined GoodLife Fitness where on a recent morning he was on the treadmill talking about Jean's progress. He jokes that now he has problem finding his wife in the supermarket because she zips away pushing the shopping cart. "I can't stay down. I have to keep moving," she said.
"Now she's very independent. She's done very well," he said. "She's just exceptional coming back from all of this." They now have an eye on resuming traveling, a love of theirs, and being able to do more with their family. It's a life journey that they plan on continuing indefinitely. After all, he still wears the watch that Jean gave him when he left for three years of military service before they were married – "Jeannie loves Wayne," the inscription reads.
GoodLife Fitness, an individualized exercise program geared toward the older adult, has eight locations, including Jerome Home. For more information, visit https://hhcseniorservices.org/health-wellness/goodlife-fitness. To reach the Jerome Home location, call 860.356.8247. Jerome Home offers skilled nursing, short-term rehabilitation, residential care, memory care and assisted living, and is a not for profit member of Hartford HealthCare Senior Services. For more information about Jerome Home, visit jeromehome.org or call 860.229.3707.
---