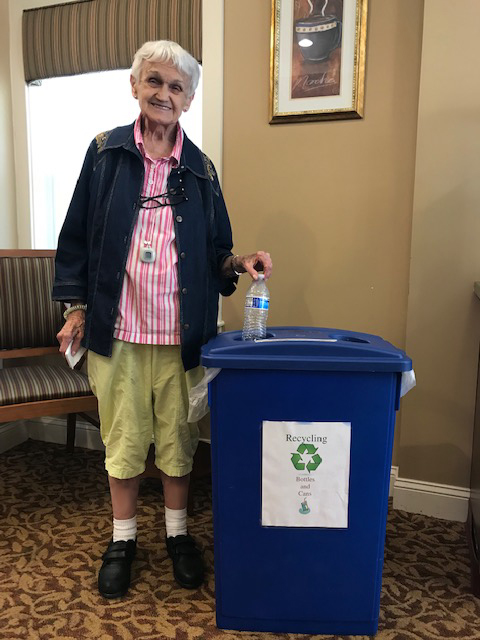 By Donna Valente, Activities Director, Arbor Rose
As an environmentalist, doing my part to protect our planet has long been a passion of mine. I am an avid recycler, contribute to environmental as well as animal rights causes and sign hundreds of on-line petitions every month. But I wanted to do more. After watching a segment on 60 Minutes about the growing epidemic of plastic pollution and its catastrophic impact on our oceans, I became inspired. Plastic pollution is killing our planet!
Approximately 18 billion pounds of plastic waste flows into the oceans every year. That's the equivalent of five grocery bags of plastic trash sitting on every foot of coastline around the world. It's choking our oceans, poisoning our food and water supply, and wreaking havoc on the health and well-being of humans and wildlife worldwide. Plastic takes anywhere from 500 to 1,000 years to degrade, so one can argue that every piece of it ever produced, except for what has been incinerated, is still in existence. Micro particles of plastic are finding their way into the food we eat, the water we drink and even the air we breathe. These sobering statistics should be a huge wake-up call to each and every one of us.
I came to work the next day and shared what I learned with some of our residents and was amazed at how interested and engaged they were. They all had the same question-"What can we do to help?" The answer was right under our noses. I have been the activities director at Arbor Rose for almost 10 years and like many companies and organizations, we use a tremendous amount of plastic products.
Years ago, plastic did not exist, so I began thinking about different alternatives. I quickly realized that I couldn't make changes on my own, so I approached a few colleagues with my concerns and found them to be very receptive to making a positive change. In July we formed a Green Committee. Our goal is to eliminate Styrofoam and plastic use. During our first meeting we discussed the challenges we face and how to begin making changes. It was important to get the dining department on board because that is where many of the plastic and Styrofoam products are used. We began with eliminating all plastic dishes during Happy Hour and using china dishes instead. I also requested washable dishes and spoons for our monthly ice cream social. I am happy to say that we have substituted Styrofoam coffee cups with cardboard. Styrofoam is especially toxic. We are using metal and glass condiment and salad dressing cups instead of plastic.
It's a good start but we still have a long way to go.
Some things we are working on-
No longer supplying Styrofoam or plastic cups or utensils for staff use
Requesting that our nursing department use paper instead of plastic medication cups
Replace plastic drinking cups with paper cups or using washable cups
Replacing plastic coffee stirrers with wooden ones
Cutting back on the usage of to go food containers and switching to cardboard instead of Styrofoam
Supplying re-suable shopping bags to residents to be used on our weekly shopping trips
Staff education is hugely important. In order to be successful we need to have everyone on board. We are looking into having in-services on the proper use of recycling bins and why it's vital that we all do our part to eliminate plastic from our community and our planet
But clearly, we all need to do more. Plastic recycling rates are highest in Europe at 30 percent. China's rate is 25 percent. The United States recycles just 9 percent of its plastic trash. Plastic has become such a normal part of our everyday lives that we often don't realize how much we use or how unnecessary it is. It is up to each and every one of us to be mindful and make the positive changes necessary to save our planet for ourselves and future generations. What will you do?
If you think you can't make a difference consider this-real change comes from many people doing small things. Together we can all make the world a better place!
For any questions or more information on how you can be more involved, contact Donna Valente valented@jeromehome.org
---