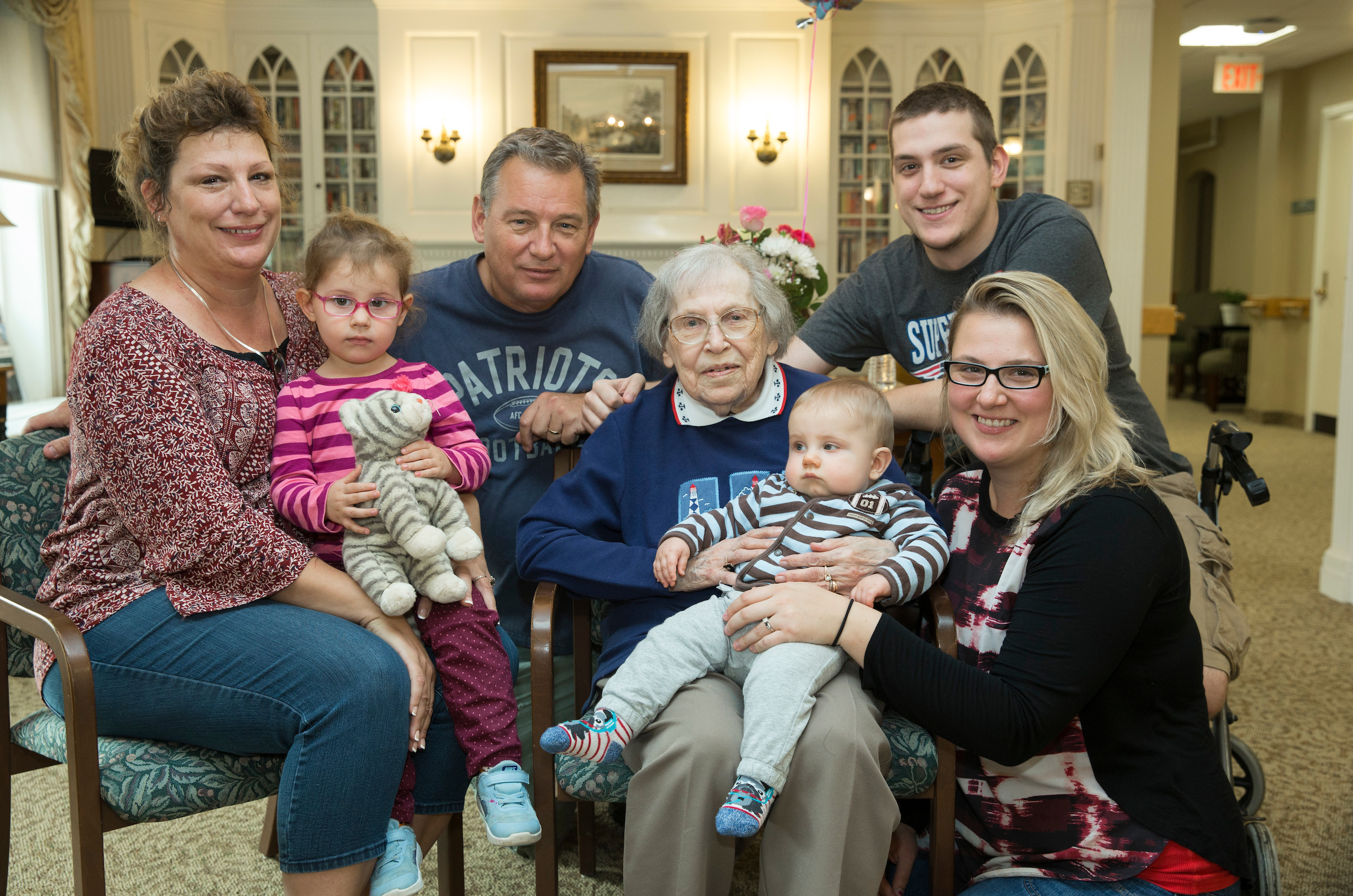 Lydia Peterson loves her large family – and she's happy that she's had more years to enjoy them than most people. That may explain her endless grin when she was surrounded by many family members as well as staff and other Jerome Home residents at her 104th birthday celebration. The Attwood Room overflowed with guests on Oct. 11 as people stopped by to give her a kiss and hug, and chat.
Peterson became a Jerome Home resident in July 2006, moving from Plainville where she lived for 16 years with her granddaughter, Andrea Oden. "We selected Jerome Home because it is the 'Cadillac' of homes in this area and she had many friends there," Oden recalled.
Quite independent, Peterson brought her blue Oldsmobile to Jerome Home and drove until she was 93. She traveled frequently, enjoying day trips and meals at favorite restaurants with her son and daughter-in-law when they visited from Texas.
The family, deeply rooted in New Britain, has always been the top priority. Born and raised there, Peterson and her husband, George (a milkman for Guida's Dairy) had two children, Ronald Peterson and Janet Wanik, three grandsons, two granddaughters, 13 great-grandchildren, and many great-great grandchildren, including Caroline and Russell Thibedeau, who were at the party.
Peterson looked at her many birthday cards as loved ones took turns sitting beside her. Oden became teary when looking around the room at the extended family including her brother, Mike Wanik, who is often in the forefront assisting his grandmother.
Great-grandson Kurt Oden commented, "It seems a little unreal that she is 104. When I tell other people they seem shocked – no one else I know has someone who is 104." He reminisced about the many hours they spent together when he was young, watching "The Price is Right" and enjoying her goulash while his parents were at work.
Other conversations floated around the room: the fact that Peterson had eight siblings; attended St. Matthew's School and church; and worked at Stanley Works in New Britain. Andrea Oden talked about the five-generation photograph of women that was taken on Easter – ages ranged from 3 to 104 years old.
The "birthday girl" did not offer advice for living long or living well. However, family members attribute it to living simply and making the best with what you have. "If you have overripe bananas, make banana bread – she has made hundreds," quipped Oden.
Peterson is not the first Jerome Home resident to celebrate a 100-plus birthday this year; in September, Lene Pepe marked her 105th birthday.
Jerome Home offers skilled nursing, short-term rehabilitation, residential care, memory care and assisted living, and is a not for profit member of Hartford HealthCare Senior Services. Jerome Home is located at 975 Corbin Ave., New Britain. For more information about Jerome Home, visit jeromehome.org.
---