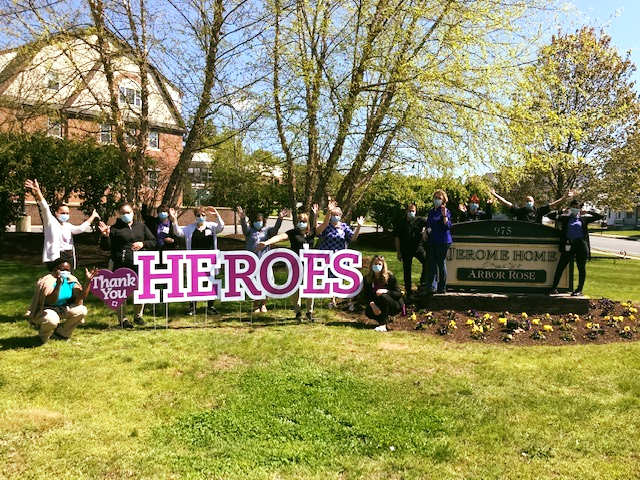 In celebration of National Skilled Nursing Care Week being observed May 10-16, Hartford HealthCare Senior Services is recognizing its long-term skilled nursing communities: Jefferson House, 1 John H. Stewart Drive, Newington, and Southington Care Center, 45 Meriden Ave., Southington; and managed community Jerome Home, 975 Corbin Ave., New Britain. These communities not only provide advanced nursing care for those individuals who can no longer live independently but also offer a full spectrum of rehabilitation therapies and wellness programs to promote optimal quality of life.
National Skilled Nursing Care Week was established by the American Health Care Association in 1967 to recognize the essential role long-term care facilities play in supporting seniors and those who have greater health care needs.
Within the Hartford HealthCare Senior Services continuum, our compassionate team of professionals continually demonstrates their ongoing commitment to our residents. Behind the scenes, employees tirelessly perform their essential roles such as maintaining the cleanliness of the building, preparing and delivering delicious and nutritious meals, and ensuring the safety and upkeep of the building. The community is filled with engaging activities to meet the social, mental and spiritual needs of each individual, as well as programs that strengthen the body through therapy and exercise to promote independence. Our clinical team nurses and CNAs, as well all support staff ensure the health needs of every resident are met. These departments collaborate and support each other to build a trusted network of care, all with the resident overall health and safety in mind.
"During National Skilled Nursing Care Week, and actually every day, we celebrate our long-term skilled nursing communities and their staff for their continual dedication to our residents and families. Even through difficult times, they continue to face and conquer challenges to ensure the health and safety of our residents," said Lisa Connolly, vice president, Hartford HealthCare Senior Services. "We couldn't be more proud of our professionals and extend a heartfelt thank you."
Hartford HealthCare Senior Services is a not for profit under Hartford HealthCare. For more information about Hartford HealthCare Senior Services, visit https://hhcseniorservices.org.
---