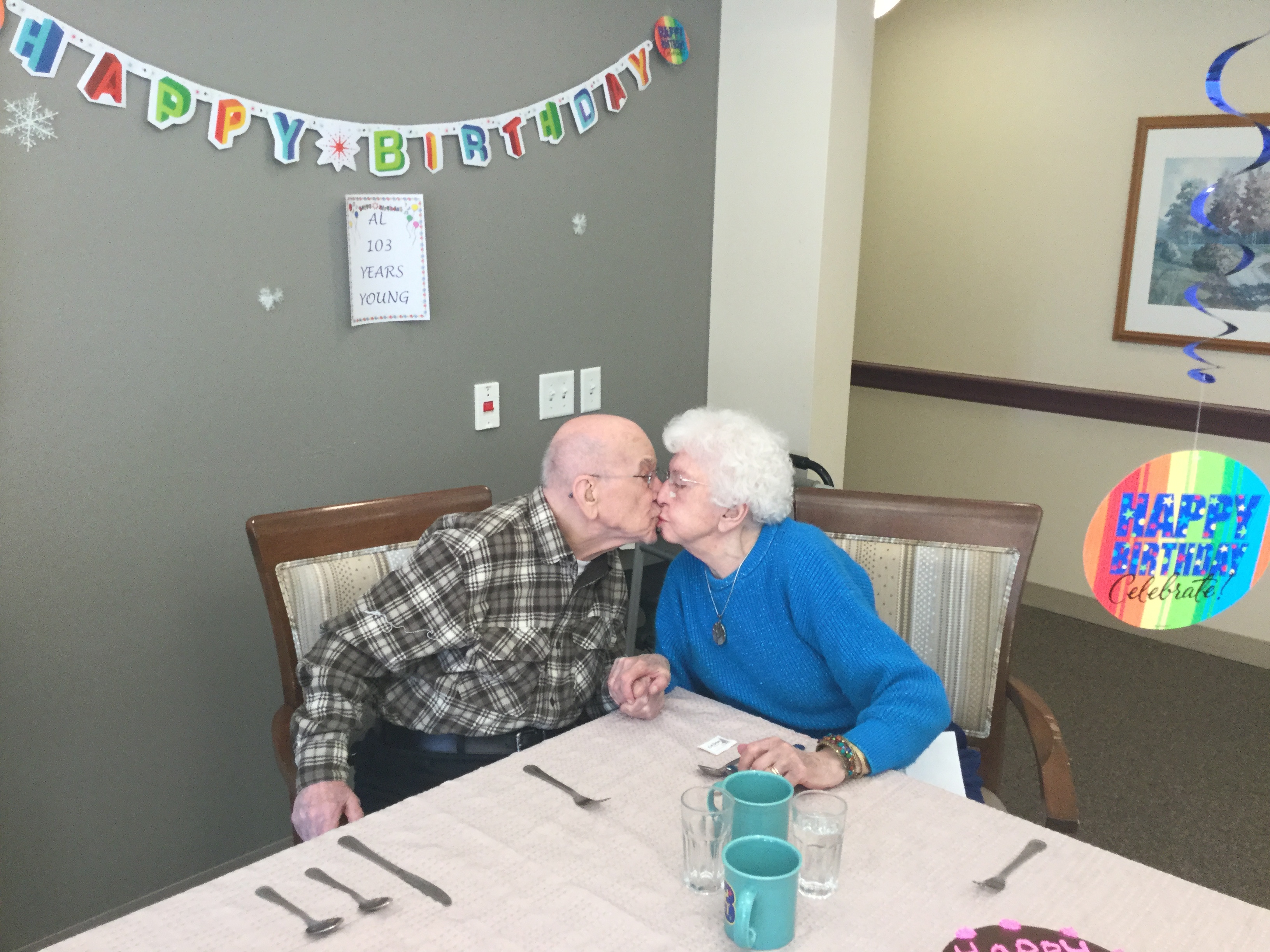 Arbor Rose resident Al Pierro, more commonly known as the "Cha-Cha Man," celebrated his 103rd birthday on Jan. 7. When he looked at his birthday sign at his luncheon party, he immediately put his thumbs up in the air and said "I cha-cha'd all the way!" with a big laugh and an even bigger smile.
Al's great sense of humor, smile, love of dancing, family and friends seem to be the secret to his longevity. Staff, peers, Jenny, his wife of 75 years, and their son, Thomas, gathered around to sing "Happy Birthday." Jenny, who is 97 years young, and Al wed on her birthday on May 31, 1943. They had known each other for years but it was when he asked her to play cards one Saturday night that their love story began.
Al's 103rd birthday celebration actually started Jan. 6 when he visited with his daughter, Barbara, and friends which gave him another opportunity to reminisce and laugh over some of his favorite memories. He recalled the time his father made a bathtub-sized wooden box for grape stomping in the making of wine. "I had to take off my socks and shoes and stomp the grapes," Al said. In between great peals of laughter he recalled, "It was Prohibition but my father was from Italy – he didn't know," followed by, "Oh, I have to laugh; I can hardly tell it." He also talked about his time in the Air Force stationed in Arkansas where he and 20 men under his supervision inspected and repaired the planes preflight.
After World War II, Al sold windows and worked in home improvement. "I sold windows, tons of windows, door to door. Everybody knew me!" In winter months when business was slow, the couple vacationed in Florida. He always says, "Oh, I love Florida," as he recalls the many hours of teaching line dancing on the boardwalk, said Laura Nigro, Arbor Rose recreation coordinator.
Back home in Bristol where he lived his whole life until moving to Arbor Rose eight years ago, he and his wife belonged to all the dance clubs – line dancing, ballroom and square dancing. He continues to teach cha-cha to his peers and staff at Arbor Rose. "He reminds us daily to live, laugh and love," Laura said.
---